Never has there been an outing as highly anticipated and anxiously awaited by the Goos as it was with this Selancar trip.  Immediately after our year's opening, offbeat and rather sombre Jeram Jerami picnic, daily discussions via emails and whatnots ran into hundreds of replies and responses.  And a month later, we were on our way to this place nested in the Endau-Rompin Forest Reserve, a part of  Taman Negara.
The midnight travel took everyone to Masjid Selancar Satu before dawn, enabling some to take a wink for an hour or so before azan subuh echoed in the early Saturday morning.  Some managed to stay asleep while most quickly joined the locals for solat.  The morning sun quickly creeped out signalling the need to be ready for our journey.  But first, two cars that needed slight repairs were sent off to a nearby workshop.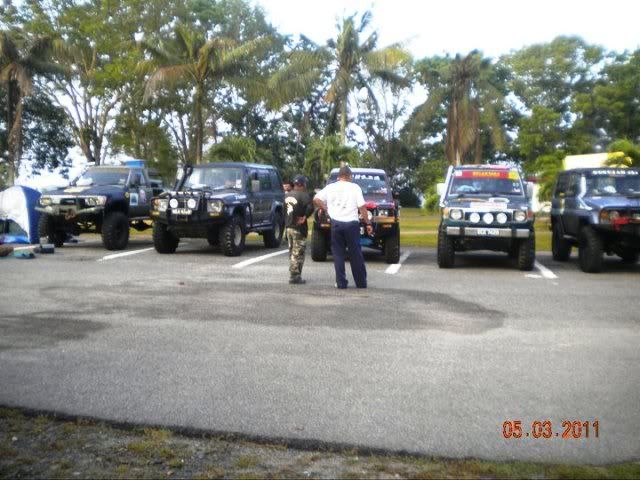 Rizal's rear left tyre were punctured while Romeo's clutch pump leaked.  Both were repaired in a jiffy while the rest of the troop enjoyed breakfast at a local makan place. However, Romeo's car needed parts that were only available in Segamat thus, he urged the group to push ahead while two other cars – Rosli's and WhiskeyMike's – waited with him.
Ten rigs.  No sweat.  So we thought.  The recce report indicated that this Selancar track is somewhat medium at the most, with few gullies and river crossings.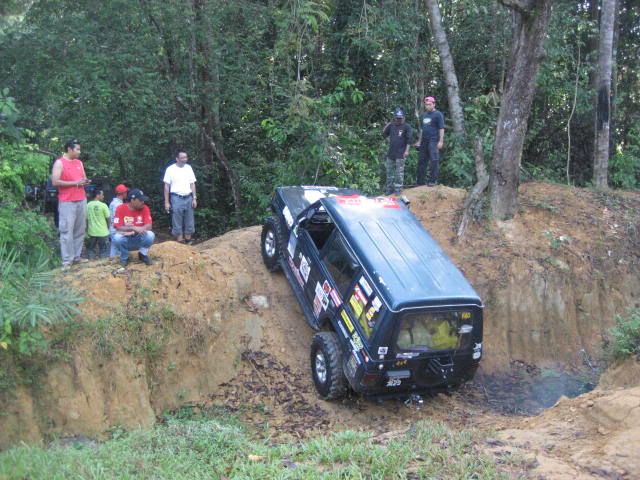 But…. except for the first gully and the first river crossing, the trail was nothing as earlier described…. It was definitely not medium.  It was hardcore!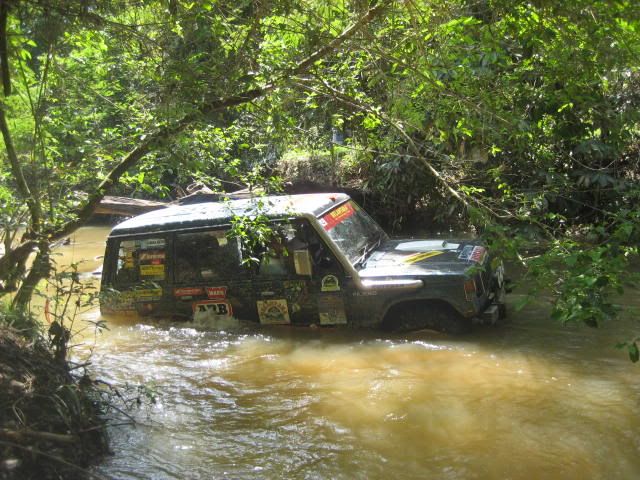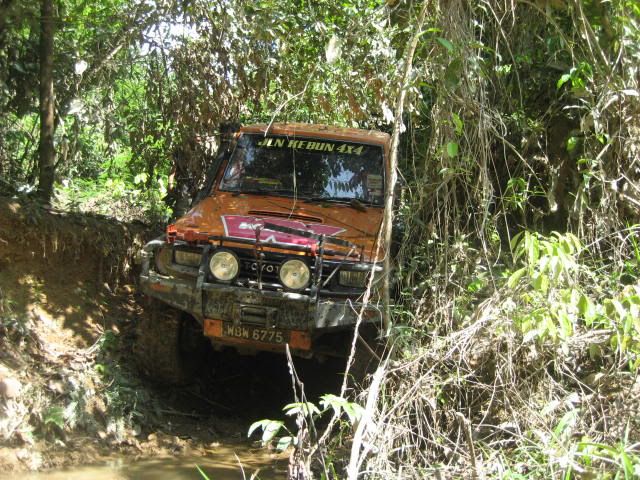 It was still early when we were done with the river crossing.  Not much trouble (yet) after all ten rigs safely crossed the river, except for Rizal's overheated engine… a mere cut off  to the wire connection of the radiator, which were repaired in no time by Mahyud's co-pilot, the now regular Anip.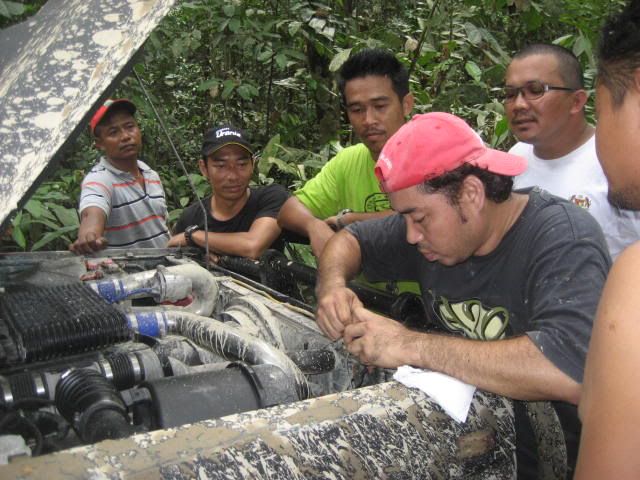 Well, what can we say…. the trail ahead was way out of what we had in mind.  Even  Wak Lan, Jalan Kebun 4X4 presindent had to dirty his hand when the trails get rough… really rough!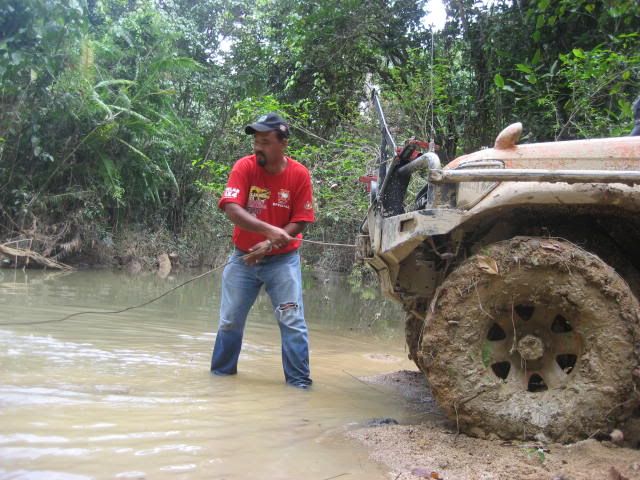 It seemed that the first two hurdles (gully and river) were mere warm-ups, as the rest of the way, muddy ruts and even muddier gullies and mud traps awaits the convoy.  And since a few weeks earlier the place were a part of the Segamat big flood, there were many fallen trees which blocked the natural route.  Luckily we were prepares – or rather Mahyud were prepared with his chainsaw and stuff….
Saturday was gone in a wink of an eye….. before we know it it was already night-time…. everyone was really tired.  No proper lunch. Everyone was on their own, even for dinner.  Some prepared instant noodles, while some had to make do with bread and cookies.  Whatever one can grab. However, past 9.00pm, Itam, Rizal's co-pliot (and brother) started the lambchop BBQ.  Everyone had their share of the ten kilo Rosli bought… And the BBQ was superb!
It was almost midnight when everyone had some rest and some food…. while waiting for Nasir's (our guest participant from Terengganu) punctured tyre to be replaced.  His Pajero was stuck mid a small stream while crossing when  the right front tyre puntured.  When he was finally rescued, the group decided to push on…. less than 500 metres forward, where there's a better place for camping… with some space and wider stream… almost river-like as compared to the one where the Pajero got stuck.  It was the furthest 500 metres ever!  The last car made it to the place around 5.00am!  Some managed to set up campbed while others just make do with the car seats…
The next morning, Sunday, around 9.00am… most were already up and some were already having breakfast.  Two cars didn't cross the gully just before our campsite…
The convoy pushed on at around 11.00am Sunday… Oh, forgot to mention.  Ahead of us there were another group of four cars from Kuantan trudging the trail.  They were slowed down a bit (and in turn slows us down) as three cars were injured… No issues.  We just waited in line.
The thing about this track is, there were so many gullies, or "V" as popularly known by the 4X4 enthusiasts here.  Just when we were relieved after overcoming one, the next one would be another "V"…. and "V" after "V"….   You know what they say… "V" for victory!  As the feeling of satisfaction (and relief) is what comes to self after successfully crossing each gully!
By the time all cars cleared that "V", it was already after 5.00pm.  The "elsie" and WhiskeyMike's Cherokee was last.  As we head out, the elsie's front left tyre puntured.  Not having a useable spare, I had to radio for help, and Dani came to lend his spare.  That incident held us back almost an hour!  By the time we caught up with the rest of the group, we were again in line behind the Kuantan group…. at the last hurdle of the route – a river crossing with a very steep climb on the other side.  Time was not on our side.  Its already past 8.00pm when the first car attempted that crossing….
By this time five cars were injured…. winches rendered not working in one way or another.  One car, Mozariman's Pajero lost its four-wheel capability since the BBQ place, plus his PTO was aslo having problems… So, to assist with this last crossing, Romeo's car + Bravo's elsie joined hands to winch up six rigs that were not able to do it on their own…  And by midnite, or slightly after, all cars safely crossed the river.
However, there were two other problems that came to us.  Mahyud's car could not start while Dani's LC sustained serious damaged during his turn to climb the steep banks.  Mahyud's pajero problem was, fuel did not reach the engine… not pumping it seem…  a team worked on his car.  while Dani's LC… steering stabilizer broken, front left absorber broken, and the axle's "parang" seriously bent out of shape.  Nothing that we could not repair.  It took almost all nite to troubleshoot both cars… but around 5.00am, we were rolling again… and it's already Monday!
Monday morning, around 7.30am we safely reached the "doorway" to this exciting track – at the first "V".  With little rest or sleep, some wearing the same outfit since Friday, with mimimum food, the group would logically be de-motivated or would be "down".  But, what we saw was totally the opposite… everyone was cheerful!  The look of satisfactions were on everyone's face….
Although it "action" all the way from day one, we did enjoy some light times… after all, its part of our spirit…
What can we say… it was really hard… but the satisfaction level once we got out was indescribable.  Just as when we thought that there were no way out, someone and somehow, creativity and experience helped us to overcome the difficulties.  On a scale of ten, this trip was a prefect score!  Ten on ten….
No sweat!
who were there?
WhiskeyMike + Aimae
Romeo + Azli
RosliNS + Zainal
Mahyud + Anip + WanUEM + Ijan
Mozariman + Rosli + Azlan + Izrul
Jimi Jinz + Jemae
Dani + WakLan
Rizal + Itam
BravoLima + Chelan + Faris
and
Nasir + Budin + ????? + ???? + ????
bravo lima, 15th March 2011.